Governance Board Updates
The Governance Board met May 4, 2018 with eight members present. This months ice breaker asked participants to identify their favorite childhood activity. Answers ranged from bike riding to swimming to being outside. The ice breakers help participants get to know each other since all of the meetings are by phone or using video conferencing program zoom.
The group discussed the end of Tier II funds available to be used between now and July 31, 2018. CFReSHC has exhausted funds to provide Amazon gift cards to PTF members for attending monthly meetings. Participants were asked if they were willing to attend future meetings without compensation. The group discussed taking a break during the summer months because of vacation schedules and lack of funding for meeting compensation.
The Meeting planning committee reviewed the plans for the May 30, 2018 PTF meeting on Incontinence. The Group Norms committee is working on language to address participants who take a leave of absence for illness or another reason. The group discussed the need for a member to secure a proxy for voting purposes. The group did not feel enough members would be absent at one time to prevent voting on pertinent issues. The Communications committee is working on advertising the PTF meeting, finishing the newsletter and writing documents required by PCORI as Tier II of the project comes to an end.
Patient Partner Sandy Sufian opted to spearhead the Cystic Fibrosis Foundation Impact Grant committee. She is also working on a potential research project in direct response to PTF feedback that would track hormones and CF symptoms during the menstrual cycle.
Research Advisory Panel Updates
Thirteen members attended the Research Advisory Panel meeting on June 5, 2018. The icebreaker asked members what type of exercise they enjoy. Answers included: yoga, Pilates, kickboxing, fitness blender, walking and bike riding. The focus of this RAP meeting was to review the findings from the PTF meeting on Urinary Incontinence.
The group discussed ways to bring the problem of urinary incontinence to the attention of CF Clinics. Participants were provided with a link to Dr. Karen Von Berg's class and video held at the CFRI conference last summer. One member suggested designing an informative flyer that could be submitted to CF clinics. Another suggested designing a survey that could be handed out during clinic since many patients are embarrassed and reluctant to discuss the issue. Some wondered if having a respiratory therapist ask patients if they need to void prior to performing pulmonary function testing would be a way to broach the topic during clinic. Members inquired if it is possible to bring a specialist into clinics to address the issue. Not much research has been done on this issue so it was suggested a good start would be for the Cystic Fibrosis Foundation to add questions about incontinence into registry data.
May Patient Task Force Summary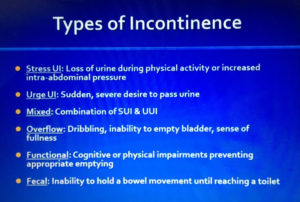 Dr. Karen Von Berg discussed incontinence in CF during the May 30, 2018 PTF meeting. She provided attendees with a wealth of information. Interestingly, your pelvic floor muscles are working with every breath you take. Your breathing is linked to your posture and your brain will prioritize breathing over your posture. When posture and breathing are aligned, incontinence is less common. When breathing is hard, posture suffers and incontinence can occur. A physical therapist will assess a patient's posture and range of motion in spine and hips to develop a treatment plan. There are exercises that can be done through rehab to help strengthen your muscles to improve your incontinence symptoms. Another option is to see a urogynecologist, a pelvic floor specialist, for other treatment options like an internal examination and surgery.
Things we learned:
Twice as many women as men struggle with UI
Women tend to wait 6.5 years on average before seeking treatment
The older you are the more likely you are to have it
Not necessarily associated with poor lung function
Literature shows anywhere from 30-80% of CF women experience UI
After the presentation, CFReSHC sent out a poll to patients to identify potential research areas. The top responses included:
What exercises can CF patients do at home to address urinary incontinence?
How do we get the CF clinic team to discuss and address urinary incontinence?
How can we change state and private insurance policies to allow prescriptions/coverage for physical therapy and other non-traditional treatments for urinary incontinence?
How do we make physical therapy/urogynocology referrals for urinary incontinence a normal part of the CF clinic referral network?
The one hour video presentation is also available to view at your leisure.
We are taking a hiatus from Patient Task Force Meetings this summer, but keep in touch via email, Facebook, Twitter & Instagram.
Highlights from the European CF Society Conference
Last month I had the opportunity to attend the European CF Conference on behalf of CFReSHC. The European conference is focused on standards of care, especially differences in care between eastern and western Europe. Every other year they hold the conference in a developing country in order to help eastern European, and thus poorer countries, attend the conference and learn about new standards of care. Because of this focus, there were many topics related to sexual and reproductive health. I attended lectures on the prevalence of incontinence, pregnancy with CFTR modulators, mental health and CF, and a debate about whether body composition should be used instead of BMI, which also included discussions about body image. All of these sessions carried a common theme, which was: these are all topics that need to be addressed but have not yet been studied! I was glad to see them discussed, but let's hope next year there is some research to back up the discussions!
CFReSHC Reseachers
Emily Godfrey, MD, MPH
University of Washington School of Medicine
Dr. Godfrey is an Associate Professor of Family Medicine and Obstetrics and Gynecology at the University of Washington where she practices full spectrum family medicine and conducts research related to women's health. Dr. Godfrey specializes in family planning and outpatient women's health care. She graduated from the Medical College of Wisconsin in 1997 and completed a family medicine residency at West Suburban Hospital in Oak Park, Illinois. She is a graduate of the University of Rochester's Fellowship in Family Planning and Master's of Public Health (M.P.H.) program. She is board certified in Family Medicine. Her long-term research goal is to improve sexual and reproductive health care provided to patients with complex medical conditions, including women with Cystic Fibrosis (CF). She has a strong background in clinical research and served as a Family Planning Epidemiology and Public Health Fellow at the Centers for Disease Control and Prevention (CDC) Division of Reproductive Health. During her tenure at CDC, Dr. Godfrey provided technical assistance for national evidence‐based contraceptive guidance for health care providers and served as the clinical expert for Title X family planning national guidance for women's and men's reproductive health clinical services. More recently, Dr. Godfrey has developed her skill set to include patient-engaged research. She was awarded the PCORI Pipeline to Proposal (P2P) funding and co-created the Cystic Fibrosis Reproductive and Sexual Health Collaborative (CFReSHC). As a long-time family physician and reproductive health specialist, she brings decades of patient-centered clinical skills to CFReSHC and sensitivity to discussions with patients about sexual health. When she is not working, Dr. Godfrey enjoys bicycling throughout the Puget Sound area and hanging out with her partner, Joel and her dog, Legumes.
Sexual and Reproductive Health Research from CFReSHC Collaborators!
Publications
Ladores, S., Bray, L., Landier, W., Cherven, B., & Meneses, K. (In Press). Fears surrounding pregnancy and motherhood among women with cystic fibrosis. Women's Healthcare.
DeBiasi, L., Nichols, L., & Ladores, S. (In Press). Critical Thinking Case Studies: Older adolescent with cystic fibrosis: Transitioning to adult care. Pediatric Nursing.
Ladores, S., Bray, L., & Brown, J. (In Press). "If we would have known": A couple's regret over a missed opportunity to have a biological child after lung transplantation. Journal of Patient Experience.
Bailey, J., & Ladores, S. (2018). Ethical issues when conducting research in people with cystic fibrosis. Journal of Nursing Practice Applications and Reviews of Research, 8(1), 48-52.
Kazmerski, T.M.,Hill, K., Prushinskaya, O., Nelson, E., Greenberg, J., Pitts, S.A.B., Borrero, S., Miller, E., and G.S. Sawicki. "Perspectives of young women with cystic fibrosis and parents on sexual and reproductive health educational resources." Accepted at Pediatric Pulmonology, March 30, 2018. doi:10.1002/ppul.24015
Presentations
Ladores, S. (2018, April). Sexual and reproductive health in individuals with cystic fibrosis: Where are we in clinical care and research?, Cystic Fibrosis Foundation Mini-Conference (keynote speaker), livestream of patient-centered tele-conference for attendees with cystic fibrosis.
Ladores, S. (2018, July). Two unexpected pregnancies attributable to cystic fibrosis gene-specific drug therapy: A case study, Sigma Theta Tau's 29th International Nursing Research Congress, Melbourne, Australia
Bray, L., & Ladores, S. (2018, July). Gender-specific facilitators and barriers to health-related quality of life in adults with cystic fibrosis, Sigma Theta Tau's 29th International Nursing Research Congress, Melbourne, Australia
Ladores, S., Bray, L. A., & Brown, J. (2018, May). Regrets over a missed opportunity to have a biological child: One couple's journey after lung transplantation for cystic fibrosis, American Thoracic Society International Conference, San Diego, CA
Kazmerski, T.M., Miller, E., Sawicki, G.S., Prushinskaya, O.V., Thomas, P., Hill, K., Nelson, E., Miller, A., and S.J. Emans. "Stakeholder-guided sexual and reproductive health educational resources for young women with cystic fibrosis" Poster presentation at Society for Adolescent Health and Medicine (SAHM), Seattle, WA, March 2018; poster presentation at Academy of Communication in Healthcare ENRICH Forum, Tampa, FL, June 2018 (Best Poster Award Finalist)