Governance Board
The Governance Board is a sub-group within the CFReSHC who make strategic decisions about the future of the collaboration and project. This group is in charge of handling recruitment strategies, communication between groups, delegation of tasks and development of CER questions. This group is comprised of members of the CF Patient Task Force (CF-PTF) and Research Advisory Panel (RAP). The board is comprised of three committess: The Communcations Committee, the Meeting Planning Committee, and the Group Norms and Governance Committee.
Patient Task Force
The Patient Task force is a sub-group within the CFReSHC which is comprised only of people with cystic fibrosis and Governance Board members in charge of scheduling and helping with CF-PTF meeting logistics. The CF-PTF meets monthly to hear speakers talk about specific subjects relating to the Reproductive and Sexual health of people with CF, discuss these topics, and suggest potential questions about Reproductive and Sexual Health research relating to the topic.
Research Advisory Board
The Research Advisory Panel (RAP) is a program within CFReSHC responsible for developing Comparative Effectiveness Research (CER) questions that meet the needs and priorities expressed by the CF-PTF. and for providing technical expertise and feedback on any future PCORI grants and research protocols that arise from this initiative. The RAP will help strengthen relationships, develop infrastructure, and create channels for communication with patients, healthcare providers, researchers and advocacy organizations. RAP members will also be responsible for mentoring patient partners in study design and dissemination of CFReSHC study results. RAP members may be asked to present on specific topics related to reproductive and sexual health at CF-PTF meetings, if requested by the CF-PTF. Currently, this group is comprised of researchers, health care providers (including mental health care providers and social workers), statisticians, epidemiologists, and members of the advocacy community in both cystic fibrosis and reproductive health.
Collaborative Team
Co-founders
Emily Godfrey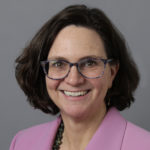 Emily M. Godfrey, MD MPH is an Associate Professor in the Departments of Family Medicine and Obstetrics and Gynecology at the University of Washington (UW). She is a family physician, with a clinical focus on family planning and outpatient women's healthcare. She is a core faculty member of the University of Washington Family Medicine Research Section whose research efforts include improving sexual and reproductive health for women living with chronic and complex medical conditions. Dr. Godfrey is a patient-centered outcomes-based researcher whose current work focuses on reproductive health for women with cystic fibrosis and developing new modalities to improve the quality of patient-informed contraceptive care delivered in the clinical setting. She is the Co-founder and current Lead of the Cystic Fibrosis Reproductive and Sexual Health Collaborative (CFReSHC). Dr. Godfrey earned her undergraduate degree from the University of Wisconsin-Madison and holds a Medical Degree from the Medical College of Wisconsin. She completed a family medicine residency at the West Suburban Medical Center in Oak Park, Illinois. She is a graduate of the Fellowship in Family Planning and holds a Master of Public Health Degree from the University of Rochester. She is a member of the expert committee on the Centers for Disease Control and Prevention Division of Reproductive Health U.S. Medical Eligibility Criteria for Contraceptive use, and a member of the World Health Organization guideline development group for sexuality-related communication. Dr. Godfrey has published dozens of articles related to family planning and is a fellow of the American Academy of Family Physicians and of the Society of Family Planning.
Sandy Sufian
Sandy Sufian, PhD, MPH, is a woman with CF and the Co-Founder of CFReSHC. She is Associate Professor of Health Humanities and History in the Department of Medical Education (College of Medicine) and of Disability Studies in the Department of Disability and Human Development (College of Applied Health Sciences) at University of Illinois-Chicago. She is an affiliated faculty member in the History Department and the School of Public Health. Dr. Sufian is a national expert on disability experience, illness experience and healthcare. She has training in history, public health, and health services research. She has written two books, is working on a third, and has written numerous articles. She is also the Principal Investigator of a two year National Endowment for the Humanities grant that builds health humanities cases for physicians in training. Dr. Sufian has been interested in women's sexual and reproductive issues and their interaction with CF for over 20 years and inspired the idea, through conversations with Emily Godfrey, for this CFReSHC work. Sandy is the Principal Investigator of the CFF Impact Award grant developing new PTF sessions and the CFReSHC website. She is also the lead on the CFReSHC hormone workgroup. In addition, Sandy is an elected member of the Patient-Centered Outcomes Research Institute's (PCORI) Patient Engagement Advisory Panel, a national panel that advises PCORI on patient engagement policies and practices. She is also a PCORI Ambassador.
CFReSHC Board Members, leaders, and volunteers

Laura Mentch
Laura Mentch, a health educator and adult living with CF, has provided sexual and reproductive health education for children and adults throughout her adult life. The invitation from her nurse coordinators to speak about contraception for an education night opened new doors: connecting with the community of adults with CF and learning about their unique sexual health concerns and questions. Laura brings her interest, knowledge and skills to her role as a patient-partner with CFReSHC.

Erin Thayer
Erin Thayer is a project manager in the Department of Family Medicine at the University of Washington and is also graduate student in the School Public Health. She worked for 5 years in research at Oregon Health & Science University as a project manager and analyst prior to joining CFReSHC. Erin is originally from Portland, OR and she received her Bachelor of Arts degree in Anthropology, concentrating in Medical Anthropology and Global Health, from the University of Pennsylvania.

Megan Lepore
Megan Lepore is a woman with CF who has a professional background in health policy. After graduating with a BA and an MA from Stanford University, she received a Master of Public Policy degree with a certificate in health policy from Duke University. Professionally, Megan has spent the last decade of her career working in health policy at the national and state levels, particularly focusing on the Medicaid program. She is an active member of the CF community, having served as a planner, facilitator, and speaker at multiple online conventions for the Cystic Fibrosis Foundation. In the summer of 2019, Megan became a mother, adding a new level of depth and personal experience to her interest in the intersection of women's health and cystic fibrosis.
Molly Pam
If you would like to learn more about our projects and programs, or get more information about joining, contact us.