The goal of our patient task force is to improve the sexual and reproductive health (SRH) for those with CF. We hold interactive virtual meetings where experts offer a presentation on a variety of SRH topics followed by breakout sessions to identify and prioritize research priorities.
Sharing the Patient Experience
Many important questions about reproductive and sexual health remain unasked, and have historically not been addressed as part of routine CF care. But it's important to know, you are not alone in this.
The patient perspective is invaluable in helping clinicians and researchers understand the patient experience. Many women do not know that symptoms they experience may be related to CF, or their CF medications. Plus, drug trials often are unable to adequately answer questions about female reproductive health beyond basic safety. Men are curious about their options for family building. Together, patients and clinicians can help to set standards of care and create guidance for conversations about these important yet sensitive topics.
Our Meetings:
CFReSHC hosts two hour Patient Task Force meetings to discuss CF-SRH related topics. We engage virtually to comply with cross infection guidelines and to allow participants to attend regardless of their time zone. 
PTF Meetings:
Furnish evidence based, extant information about CF-SRH topics provided by knowledgeable presenters. 

Build community and support by providing a space for sharing personal experiences. 

Establish a forum for open discussions on sensitive topics. 

Allow participants to articulate their needs for further research 

Promote the improvement of SRH-related standards of care.
We engage our Patient Task Force of over 300 members of the CF community regularly by involving them in meetings, offering a monthly newsletter, and providing an opportunity to prioritize research questions. We provide a forum for members of the CF community to share similar experiences, to get expert information about SRH issues, and to establish priorities for further research. 
Previous PTF Meeting Summaries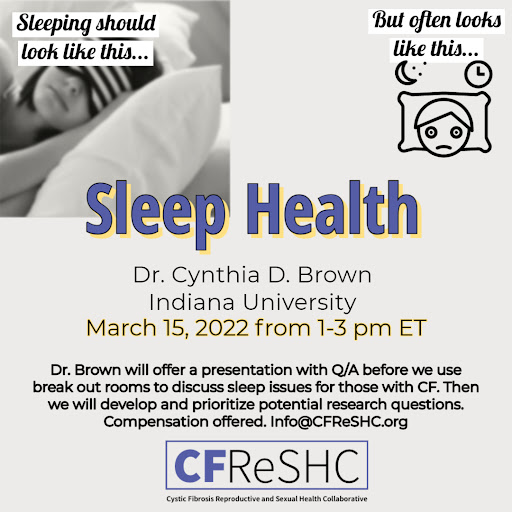 On March 15, 2022, Dr. Cynthia Brown, from Indiana University, offered a very informative presentation on Sleep Health when you have CF. Read the summary here.