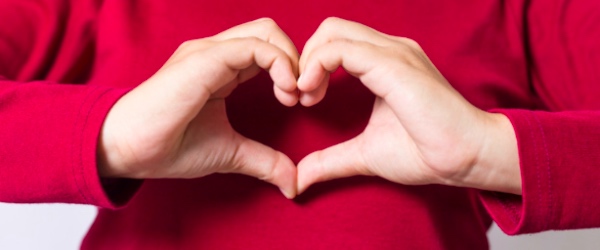 Since May's Patient Task Force meeting will focus on heart health, we asked CFReSHC community members to share their experiences with taking care of their hearts for this month's blog. CFReSHC's own Georgia Brown and Jennifer Kyle both had stories to tell.
Our Meeting Coordinator, Jennifer Kyle, is an adult with CF. Jen was diagnosed with mitral valve prolapse years ago, but didn't experience any heart issues until recently. She had been taking Trikafta for a year when she started noticing a distinct fluttering and discomfort in her chest. She assumed it was related to the original diagnosis, so she made an appointment with her cardiologist. Jen was put on a heart monitor for three days, but it didn't show any abnormalities. She then stopped taking Trikafta, because she had heard that CFTR modulators may be causing heart issues, and her symptoms went away within days. She shared this information with her doctor, and is following up with an echocardiogram soon. She's happy to report that her symptoms haven't returned.
Our Project Lead, Georgia Brown, is also an adult with CF. Georgia's family has a history of heart disease. Her father had a heart attack before the age of 50 and had a quadruple bypass at 65. Because of this, Georgia knew to be mindful of her own heart health, and was first put on medication in her 20s. Her cousin on her father's side also went on medication in their 20s, so she assumed her issues were genetic. Twenty years later, Georgia has heart disease related to her CF. Nobody explained the linkage to her; they just added it to her list of diagnoses. She now sees a cardiologist three times per year, and takes multiple medications. Her heart doctors have been suggesting that she lose weight, but many heart medications actually cause weight gain. Georgia's issues are obviously more complicated; she shared that it's been very difficult for her to navigate heart health because she has a family history *and* CF.
We know anecdotally from our own community that quite a few people with CF are seeing a change in their heart health after starting CFTR modulators, so we're really excited to hear Dr. Goralski discuss her Heart Health research in CF on May 23, 2022.