Menopause
the final menstrual period, determined after 12 months with no vaginal bleeding
---
CFReSHC CF-SRH Resource Guide by Patients for Providers and Patients
Introduction
Menopause is the time that signifies the end of a woman's menstrual cycles. It is marked when a woman has not had a period for 12 consecutive months and no other physiological cause can be identified. It denotes the end of a female's childbearing years [1].
Menopause in CF is not a well-researched topic, because until recently, very few patients lived long enough to reach menopause. With better treatment options, patients are surviving longer, and more women with CF are entering this life phase. In the average life span, women will spend one-third of their life in menopause. Menopausal physical changes on average last four years to 10 years [2]. Studies promote hormone replacement therapy during this life phase to improve quality of life [2,3]. Therefore, an exploration of menopausal symptoms and treatments warrants exploration as women with CF look to differentiate CF symptoms from peri/postmenopausal physical changes and seek treatment options.  
What is your cycle like currently– how many days between the first day of each period from one month to the next? How many days of bleeding? Are either of these a change for you?

Are you tracking if CF symptoms vary during different phases of your menstrual cycle? 

Have you experienced symptoms of perimenopause or menopause, such as hot flashes, sleep disturbances or depression? Have you noticed changes in your sex life, menstruation, vaginal lubrication, sleep patterns, and/or mood?

Have you discussed these changes with your OB/GYN or endocrinologist? 

Are you taking any over the counter supplements to help you through perimenopause/menopause?
Patient to CF Provider
:
My gynecologist suggests I may have started perimenopause. How will this affect my CF care? 

What should I expect after menopause and what are your recommendations for hormone therapy, herbal menopause treatments, and my CF care at this life stage? 

What hormone therapies could interact with my current medications?

Do CFTR Modulators have any effect on perimenopause and menopause?

Do women with CF enter menopause early?

                                                                                           

                                                          
Patient to GYN provider:
(For GYN) How does my CF care affect my hormones? Would you be willing to speak with my CF team about my issues?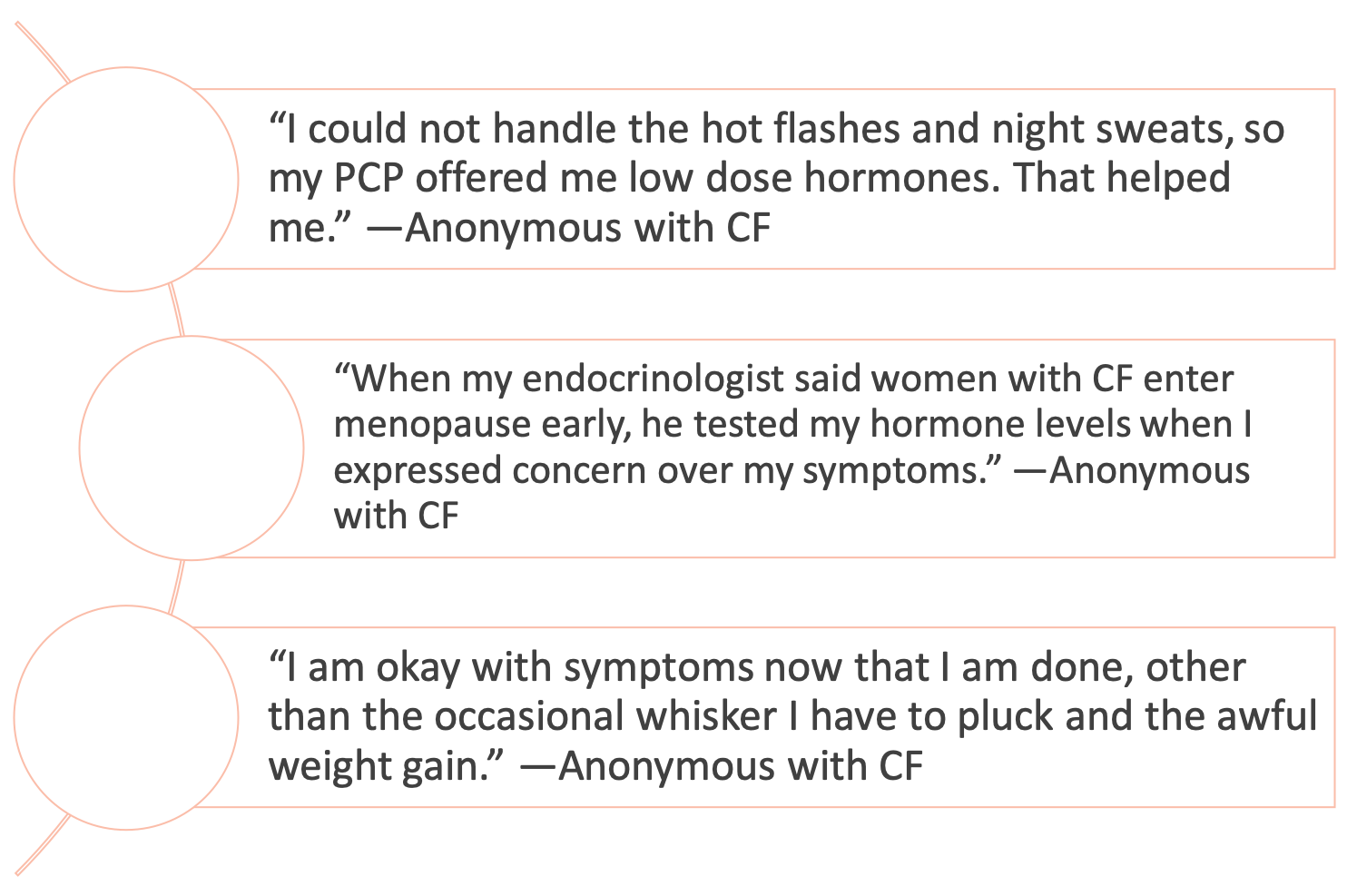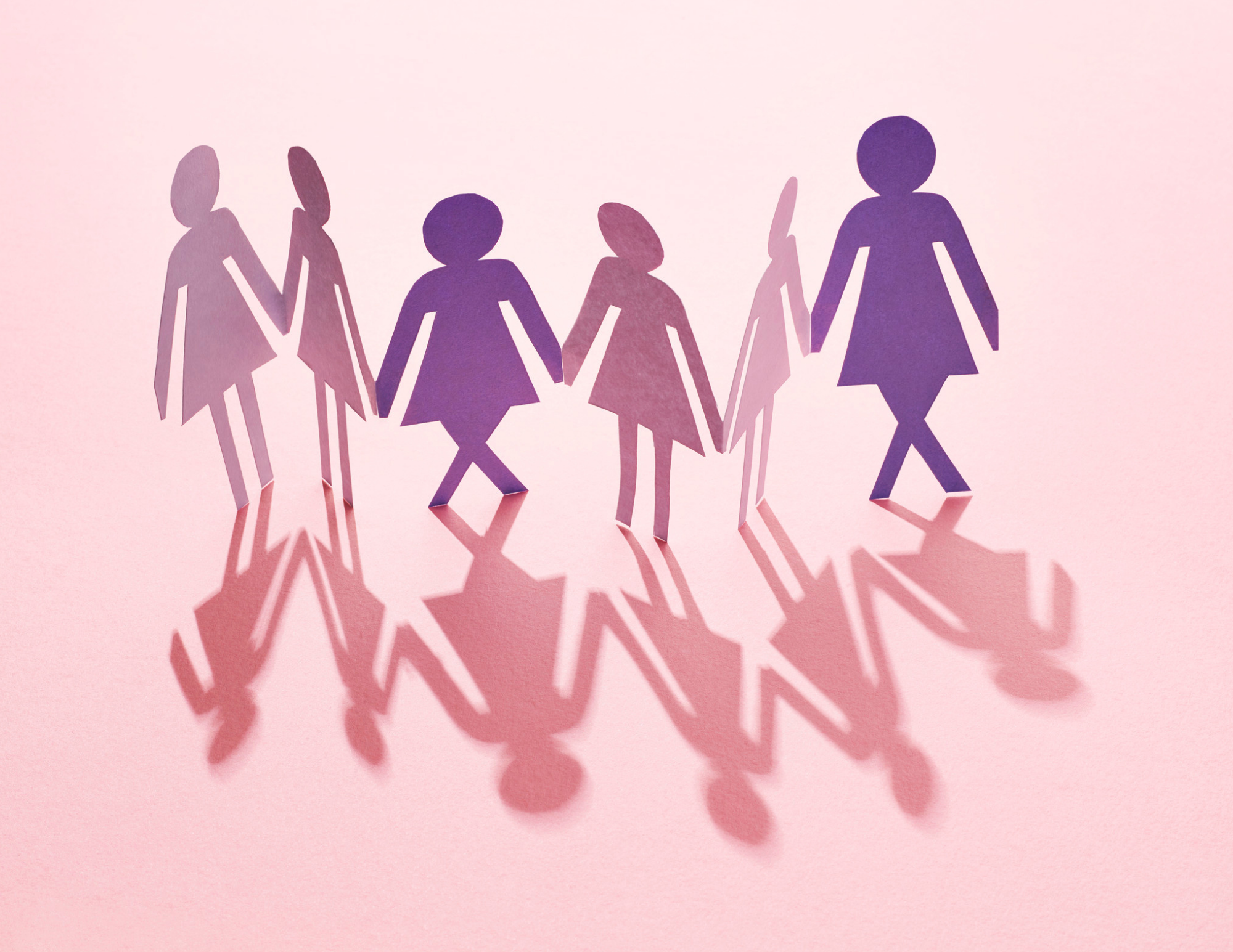 Peer to Peer Advice
Try herbal supports, but check with your doctor before starting any supplements. Try Melissa Lemon Balm, which showed improved sexual function after menopause [See the

Sexual Function

chapter

][

20].

 

Experiment with different lubricants that are glycerine, paraben and petrochemical free to help with vaginal dryness, tearing and dyspareunia [See the Sexual Function chapter]
Consider treatments for vaginal rejuvenation using energy-based nonsurgical procedures on vaginal tissue that have been used to improve vaginal dryness or vaginal atrophy (thinning of the vaginal wall) during perimenopause or postmenopause. You should find a qualified healthcare physician for this treatment. Cleveland Clinic information on energy based treatments and vaginal rejuvenation.
Consider vaginal dilator therapy that can be used at home to stretch the vagina because vaginal atrophy is associated with menopause. However, a recent study showed that there were no clinically proven standardized protocols or formalized guidelines to give to patients about how to best use their dilators. Larger long-term future studies are required to assess effectiveness [21]. Consult your gynecologist or urologist for more information.
Find a network of perimenopausal and menopausal women who share their experiences, which can be helpful [18].
Seek information to cope with menopause.

The National Women's Health Information Center

has a section on menopause and perimenopause

 [18]. The North American Menopause Society (NAMS) is another option.
Remembering that menopause is a normal physiological life transition can help women cope and view some changes as positive [18].
Free Printable PDF Download
Want a free printable PDF download of this section for your use in clinic? Just give us your name and email address below to get your download link. This will not add you to our email list.